Hair Color and Balayage for Your Extensions
Learn about hair color for your hair extensions, our expertise, and what we can do for your style!
Bring your new style to life with hair color. Highlights, lowlights and balayage can have a big impact on your look. I absolutely LOVE the way hair color can add personality to a style, brighten the complexion and even take years off of one's appearance. I'm obsessed with the latest trends and I'm trained in all the new hair color techniques. Thanks to hair extensions, even my approach to hair color has so many possibilities. I can color your hair to match your extensions, I can use extensions to add highlights or pops of fun color to your hair, or I can even custom color your extensions to match your hair.
Even if I didn't do your hair extensions installation, I'm happy to maintain them and your hair color! In most cases, I can touch up your roots and freshen up your highlights with your extensions already in. Whether for natural hair or hair extensions, I use Schwarzkopf for the best professional permanent hair color, demi-permanent gloss color, and blonding agents. Please read my Guide to Hair Extensions to see which types of extensions can be colored.
Balayage
I've lived in Michigan, Colorado and now Virginia and no matter where I go, the balayage look is here to stay. With balayage the look is more casual because the lighter color does not go all the way up to the scalp like foil highlights. The look is less deliberate, more lived-in looking. Yes, foil highlights and balayage both involve lightener and a paint brush, but the technique is different. With a balayage, I paint sections of hair using a 3D approach, selectively grazing the top, bottom or sides, to duplicate the effect of light cascading on the hair. The lightener I use is different and so is the processing time, so the overall effect is subtle and gradual. If you're a traditional highlights person, I highly recommend that you try balayage at least once!
And remember, with hair extensions, I can create a balayage look without a chemical service, or blend in your extensions to your current balayage.
Highlights and Lowlights - Foil Technique
When it comes to highlights, the foil technique may be the traditional option, but I'm still crazy about it. Adding blonde highlights to already blonde hair, adding caramel highlights to brunette hair, adding red highlights to black hair - I just love it. Highlights have a way of accenting the natural curves of your face in a way that is super flattering. Lowlights - adding accents a step or two darker than your natural color - add warmth and dimension to your color. Highlights with lowlights create that classy shade of blonde hair that says I was born with it.
Brunettes, if you're looking for a way to change up your look with out completely giving up being a brunette, some soft hand painted highlights are always nice like I did here. As a lifelong brunette, I feel that as long as I have my dark base showing around my face, I can add dimension from mid-shaft to my ends and still feel brunette!
I know, I gush about HairTalk extensions but for good reason. They have curated a gorgeous palette of pre-colored shades consisting of natural hues, from deep to platinum, along with balayage and rooted shades. I can add highlights to your hair without a chemical service.
Ombre Hair
Ombre Hair is that look of dark roots with lighter ends. Or it can be the reverse, lighter roots and length that ends in darker tips, creating a look as if the ends of your hair were dipped in color. Some people call it the dip-dye look, others call it a color melt because of the way one shade seems to roll into the next. I've created all kinds of ombre hair looks, from blonde and brunette ombre looks to fun ombre hair with vibrant color. For this client, I started by adding 16 inch pre-colored ombre extensions then added some lighter strands to create highlights around the face.
Hair extensions can create a bold ombre hair color as well, and without the commitment. Remember, in order to get that vibrancy to the bold colors, we'll most likely need to do a double process. First we'll remove the pigment in your hair, then add the fun color. But you can skip the double process when you select from my palette of pre-colored shades of fun fashion colors with ombre effects.
Blonding, Platinum Blonde and Extreme Lightening
Whether you want to be a subtle blonde or a platinum blonde, I can create the right shade of blonde hair for you and it doesn't have to involve a lot of bleach, thanks to hair extensions. Full on platinum blonde is not for everyone, and it requires a commitment to maintain it. However, there are so many shades on the blonde spectrum, I'm certain that once we talk about the look you want, I can make you the blonde you want to be. I'll take into account your eye color and skin tone and propose some options from all over blonde, rooted blonde with highlights, butter blonde, icy blonde and the list goes on. The key is to create a shade a blonde that works on YOU.
Did I mention that I offer hair extensions in all sorts of blonde shades, rooted shades, and I can custom color them. Make sure you check out my hair extensions gallery to see the hair color magic I can do with hair extensions.
Grey Hair & Grey Coverage
Yes, grey is a color. You may view your grey hair as lacking color, but to a stylist, grey is a beautiful color, but it does have its challenges. Whether you want to wash away your grey or let it grow in, I can help. Do you want to conceal your grey hair? I might propose an all over single process color. Are you okay with some grey showing? If you have a lot of natural pigment left in your hair, I might suggest adding highlights. If the majority of your hair is grey, and if you're tired of coloring it, I say go for it. Grey hair can be stunning! I'll show you how to style your grey hair and keep the color looking clear and bright.
And hair extensions come in grey shades too. Adding extensions is a great way to create dimension, or add length or volume to grey hair without sacrificing your progress if you're letting your grey grow in!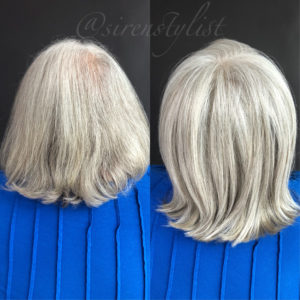 Hair Color Correction
If you've had a hair color mishap, either at your own hand or at another salon, I am here to help. Perhaps you've been using box dye to color your hair, or you've over exposed your highlights on vacation. I have extensive training on how to remove unwanted color, tone down brassy shades, transition you from a vivid color to a natural shade, or blend away massive root regrowth. Hair color correction and color balancing can be a process. I can get your hair color back to gorgeous, but it may not be achievable all in one appointment. Be patient and trust the process. And if I recommend a bond builder like Olaplex to protect your hair during the multiple steps of color correction, please consider it.
Hair Color for Clip ins, Toppers, HairBands & Halos
Even temporary hair extensions can be enhanced with hair color. Gone are the days of the super obvious hair piece that didn't blend in with the natural hair. With the right shaping and color, no one will suspect that you've added a hairpiece, whether you're wearing it for fun or for extra coverage on top. They'll just think you look fabulous.
Regardless of where you purchased your piece, I'm happy to custom cut, shape and color it for you! If your piece is made out of quality human hair, then most likely I can color it or highlight it for you. I suggest you come in for a free consultation to be sure.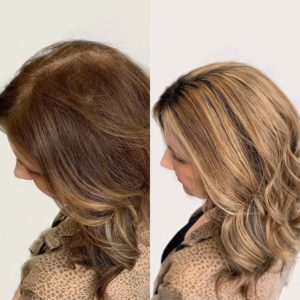 Hair Color for Hair Extensions in VA Beach
Virginia Beach
Bay Island
North VA Beach
Chesapeake Beach
Bayside
Lake Smith
Chic's Beach